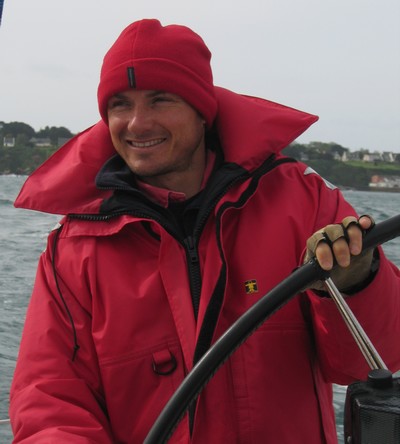 Loïck is 38 years old. As a son of a professional fisher impassioned by sailing, Pierre, he grew up in strong maritime culture.
As a teenager, Loïck discovers the speed on water on windsurfing boards becoming always shorter. With 17 years, he becomes windsurfing instructor in Cléder ( the north coast of Finistère) .
After his european studies, he decides to prepare the "Brevet d'Etat d'Educateur Sportif "Voile" (professional sailing instructor qualification) with speciality Windsurfing and Yachting. He got the "Brevet d'Etat" in 1999.
Since 1995, Loïck took part too to different yachting courses, in Brittany, in England in Spain with Juan de la Matta - 5 Ocean- Barcelone). Like the passion of the sea and sailing, Europe has always been a constant for Loïck. The trimming of a sail is probably identical everywhere in the world, but the approach of sailing depends much on the culture too...
From 2001, as co-director of the Club Léo Lagrange of Camaret, Loïck kept learning much as a Pilote of diving boats and as sailing instructor on the "Fillao" and the two First Class 8 (sport sailing yachts of the Club). These are very technical boats which open infinite horizons by learning of sailing.
Since february 2007 Loïck offers sailing courses and passages to people from many european countries. In four seasons, nobody has been injured on board, and there has been no main material break.
The engagements of the Skipper:
To respect and make respect the security norms and rules

To Maintain the ship and its equipments in a perfect state

To welcome the crew in a clean yacht

To take into account the wishes and the aims of the crew insofar as they are compatible with the weather conditions and the security of crew and yacht.

To look for the best navigation zones and mooring places for the greatest pleasure of the crew

To ensure the responsibility onboard and the security of the crew.
The values of the skipper.
Respect of nature:
Not to throw anything to the sea that could pollute it

To manage as well as possible packing and waste

To use biodegradable cleaning products
Openmindedness to human differences:
Humanity is composed of an astonishing human diversity : age, social origin, cultural origin, character... The skipper will take care of an harmonious integration of the crew
"Yachting"... My definition of "yachting" (I hope that british sailors will agree with that).
Yachting means, to take care of the others, to keep calm, polite, friendly and discrete... what is not always easy

To take care of the yacht... A boat is a companion, which give us pleasure, ensure our security and comfort by our passages.
To take care of aesthetics : by sailing, while operating in the port or by the catway, we will try to navigate in harmony with the wind, the sea, the environment. Because it is beautiful, efficient and doesn't make the yacht suffer unnecessarily.