Whether for regattas or simple sailing trips, Brittany is an ideal location for water sports and activities, thanks to its 3500 kilometres of coastline, broken up into creeks, inlets, roadways and bays, together with its many rivers.
charter a yacht in Roscoff, charter a yacht in Lorient
Charter a yacht in the new marina of Roscoff.
Bretagne Atlantic Yachting is offering from the opening of the marina in Roscoff yacht charter opportunity: Bavaria 35 Match. This is a quite comfortable and seaworthy yacht (makes sailing close to the wind a pleasure!).
A new offer in a new marina, just tell Loïck what kind of yacht you would like to charter, for which programme. Maybe you can have some influence on new offers!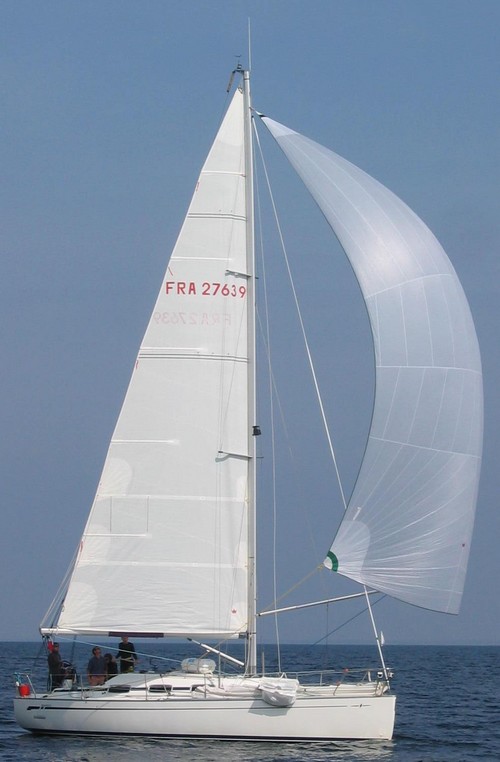 What is the meaning of "Match"?
Bavaria 35 Match belong to the family of the "Cruiser-racers".
The characteristics of the Bavaria 35 match are as follows:
Bigger sail area

Deeper and heavier keel

Good quality and complete chandlery

Slimer and lighter hull

Larger cockpit to operate more effectively

Practically equivalent confort to classical cruisers.
Why 35 feets?
This size is sufficient to ensure security, comfort and good speed and is small enough to allow practice and learning for the crew.
Why the Bavaria 35 match?
The Bavaria 35 Match won in 2005 the "Atlantic Trophy" (Series of official regattas in Brittany "Spi Ouest France", "L'Obelix Trophy"...). This yacht succeed in reconciling a high level of confort and performances.
Look at the picture on the page, you will notice that this yacht offers much comfort!
What are the benefits of this yacht ?
Much better speed in light winds and close to the wind. With 10 knots wind, Bavaria 35 match has a speed of 6 knots by a wind angle of 40° and 4 knots by more than 45° for a classical cruiser. The gain of speed is in every condition between 30 and 50% compared to classical cruisers.

This performances allow to sail and have fun in light winds when classical yachts have to start the motor. The Bavaria 35 match performs particularly well close to the wind. It gives an extra security and comfort in the choice of our destinations.

The Bavaria 35 match allows us to take part in regattas with dignity and to have much fun!
General characterisics
| | |
| --- | --- |
| Length over all | 10,79 m |
| Length at waterline | 10,10 m |
| Draught | 2,00 m |
| Max beam | 3,27 m |
| Displacement | 5.900 kg |
| Ballast | 2.000 kg |
| Sail area | 78 m2 |
| Architects | J & J design |
Sails
| | |
| --- | --- |
| Mainsail | 41 m2 |
| Heavy genoa on roll system | 37 m2 |
| Solent with reef | 28 m2 |
| Heavy Spi | 60m2 |
Charter a yacht in Roscoff - charter a yacht in Brest - charter a yacht in Lorient- yacht charter and flotilla sailing
Charter a Yacht in Roscoff, and sailing at the north coast of Brittany.
North Brittany ist very beutifull, the bay of Morlaix is wonderfull!
Experienced sailors will love this region. Current, many rocks, tides... all makes it quite interesting!
The new marina of Roscoff offers an access with any tide for ships until 3m draught. It makes of Roscoff the best place of the north brittany to charter a sailing yacht!
On board your charter yacht, you will find an IPAD with electronic maps and currents. It doesn't replace experience, but it makes it easyer!
Bretagne Atlantic Yachting
offers other places where you can charter your yacht:
Charter a yacht in Brest - the Iroise Sea (west from Brittany): the Rade of Brest, which offers a beautiful and sheltered bay , Camaret and its bay, the numerous islands, (Ouessant, Molène, Sein…), Morgat and its Bay, Douarnenez... is a navigation zone offering any conditions of sea and stream.
Charter a yacht on South Brittany : South Brittany offers an exceptionally rich navigation zone, with many ports and Islands (Les Glénan, Belle Île, Groix, Hoedic, Houat) and a softer climate than on the north coast of North Brittany. This zone is ideal at spring and in September. North of Brittany : A very strong beauty with wild landscapes : magnificient beaches, sculpted rocks, dunes of grass, turquoise water...
Just ask Loïck, and check the availability of the bavaria 35 match "Europe"
yacht Charter and flotilla sailing
You would love to charter a yacht in Roscoff but you would like to benefit from the experience of a local skipper!
For 2 years, the both bavaria 35 match of Bretagne Atlantic Yachting often sail in flotilla. This concept makes much fun and gives security!
You would like to charter a yacht and take part to the famous regatta "Tour du Finistère".
The yacht "Europe", is optimised for regattas!